5 Easy Solutions For All Your Shorts-Wearing Problems
5 Easy Solutions For All Your Shorts-Wearing Problems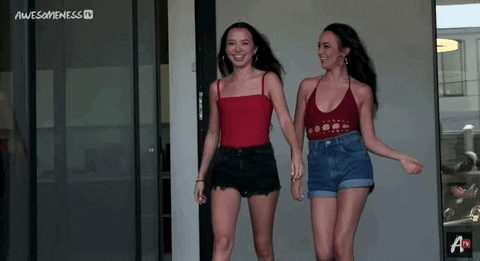 If you're a fan of wearing shorts you probably already have an arsenal of styles at your beck and call. It's a great item that works for most situations during those sunny days, especially if you live in a city `where the climate leans towards warmer and humid weather most of the year. Even during the monsoons in Mumbai, it's a convenient yet stylish choice to navigate the wet weather with all the amazing styles available. I mean even Bermuda shorts have been trending this season, we should probably give those a chance. However, while we do enjoy an easy pair of chic shorts, there are always some common problems that pop up for everyone.
The issues can fluctuate based on each individuals body type, however, there are a few common ones. Either you are unintentionally showing off more skin than you'd like, and experience chafing issues, and so on. Spending that extra dough to replace your favourite pair might not be an answer for everyone. Fortunately, there are some quick fixes that can resolve your problem momentarily. We've listed some common yet annoying problems you might have with these staple bottoms along with suggested solutions. 
Keep scrolling to check out our tips on how to remedy some common grievances you might have with your shorts:
1. When your shorts are too short
This has got to one of my pet peeves. Sometimes you finally find a pair of shorts that fit your hips and waist perfectly but then it's atrociously short from behind, bringing another meaning to the phrase short shorts. If you love a cheeky pair of shorts that perfectly fine but it can be a fashion disaster waiting to happen on the daily if its not a pool party or beach scenario.
The first solution for this involves a quick DIY so bust out your needle and thread. The simplest thing is to add on an extension to your existing shorts. Measure and cut out the fabric length required and sew it around the edge of the hem. Try and opt for fabrics like lace or a fun print to hide any flaws and make the design look intentional. It's also a great way to refashion old shorts and make them look new again. If sewing is not your thing you can use some fabric glue instead. An alternative method is to layer some sheer bike shorts underneath to give it more different look along with some added coverage for your daisy dukes.
2. Thigh Chafing or 'Chub-rub'
Yikes, this a major issue especially on those warmer days during peak humidity. Chafing of your thighs is super uncomfortable and can leave your skin looking red. Unfortunately this a common issue with outfits that showcase bare legs like shorts, skirts, etc. Luckily, the solutions for these are pretty straightforward.
It might be time to get yourself some anti-chafing products that will help out in preventing irritation that comes with the friction of thighs rubbing together. There are so many formulas to choose from like balms or powders. You can even try this nifty hack of using a clear makeup primer on your thighs when you're in a pinch.
3. When your denim shorts are too tight
When the waistband starts cutting into your sides it can very painful. Maybe your shorts have shrunk or your body has changed and you can't quite pick out the perfect size. It can be super uncomfortable around the middle because it's too tight. The best solution is, of course, getting a size bigger and tailoring it as we mentioned before, but an easy hack is to spray or soak them in lukewarm water and start stretching them out.
This a quick easy trick especially if your denim shorts have shrunk in the wash. First, you need to lay down the shorts on a clean surface like the floor and spray them with lukewarm water(not hot). Next, hold them down with a foot on either side. You now need to start pulling on the fabric with your hands. This needs to be done while the denim is warm and wet to stretch the threading a bit and you can pull in any direction you wish. Keep reapplying the water as required. Another similar alternative is to just sit in a warm water bath when wearing the shorts. Do this for a few minutes then hang them out to dry.
 4. When it's wrinkle city
If your shorts are made out of materials like cotton, linen, and rayon it's a one-way trip to wrinkle city. Once you have your shorts on and sit down or do any movements, before you can think about it, wrinkles are everywhere totally ruining your whole look. While you can't avoid wrinkles in this situation, you can definitely make it less noticeable.
The only real solution here is going for thicker, textured fabrics or even prints and patterns. Invest in a pair with some fun bold patterns than will help mask any wrinkles. Some other great fabrics to choose from include lace, tweed and your trusty denim. If you're in a time crunch with limited options, try the hairdryer technique. Gently spray or dab on very little water on the wrinkled areas. Try to use bottled water as tap water minerals could cause staining. Then turn on the dryer and focus heat on the affected area and hand smooth if needed. Remember to keep a lower setting and some distance from the fabric so as not to risk burning it.
5. The visible panty lines situation
The problem with light coloured shorts is the transparency issue. When shopping or getting dressed, the lighting can majorly affect what you notice or in this case don't. Due to the thinner fabric or even the tighter fit you can have the problem of your underwear showing. And even if it's not see-through, you get the case of visible panty lines. Your best friend in this scenario for any type of bottoms is seamless underwear or even thongs, in your particular skin tone. This will make your shorts look less transparent. Also, keep in mind next time when you pick out lighter form-fitting bottoms, opt for thicker fabrics to avoid the see-through situation.
If you're interested in more content and safe conversations about fashion, then download and join Girl Tribe by MissMalini today!