Craving Mexican This Weekend? Try Out This 5-Step Tofu Taco Recipe
Craving Mexican This Weekend? Try Out This 5-Step Tofu Taco Recipe
Yep! That's exactly how I feel when I hear someone say "tacos" around me. And if I can make a bunch of tacos for myself in just five easy steps, you know I am going for it. Vidhi Doshi AKA @ramenhairedgirl shared her recipe of tofu tacos that is super easy to follow and looks hella tempting. So, if you were looking to jazz up the weekend by cooking something fancy, why not try out this tofu taco recipe! Scroll down to check out the step-by-step process.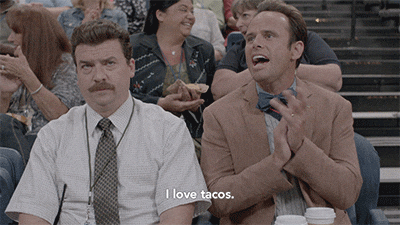 What You'll Need
150 gms smoked or regular tofu
6 corn tortillas
1/4 cup soy sauce
1/2 tsp rice vinegar
1 tsp cumin powder
1/2 tsp coriander powder
1/2 tsp chilli powder
1/4 tsp chilli flakes
2 tsp maple syrup
1 grated garlic clove
1/2 red bell pepper, sliced
1/2 onion, sliced
6 tbsp sauerkraut (or mix grated cabbage with 1 tsp vinegar and keep aside for 30 minutes)
Lettuce leaves
Mayo for dressing
1 avocado, sliced
Here's How You Can Put It All Together
Step 1: Cut the tofu into 1-inch pieces so that they can be put into the tacos.
Step 2: Prepare the marinade. For that, in a bowl, combine the soy sauce, rice vinegar, cumin-coriander powder, chilli powder, chilli flakes, garlic, and maple syrup.
Step 3: Mix together the tofu, onions, and peppers. Pour the marinade over them and toss well till coated properly. Cover with a cling wrap and refrigerate for 1 hour.
Step 4: Heat 2 tsp oil in a hot grill pan, add the tofu and veggies and toss for just 3-4 minutes till everything is cooked.
Step 5: Place the tortilla on a clean surface, place the tofu in the centre, followed by the remaining ingredients—avocado slices, mayo, lettuce, and sauerkraut.
And here's the final look.
If you do try out this tofu tacos recipe then don't forget to comment below and tell us how it turned out!
If you're interested in more content and safe conversations about food, then download and join Girl Tribe by MissMalini today! Click here to download for iOS and Android.